Palma 10 ft.x 16 ft. Carport Kit - Grey Structure & Twin Wall Panels
The last thing you want to worry about when you need to get into your car is clearing off the snow and hoping you don't get it all over you, or sitting on scorching hot seats that have been exposed to the blazing sun. The Palma Carport protects your car from this, color fading, and unnecessary scratches and damage. The Palma Single Carport can also be used as an outdoor covered lounging area. With almost 9 feet of entry width and 7 feet of overhead clearance, the Palma aluminum carport gives you plenty of room to park and walk around your vehicle. This sturdy metal carport also boasts a snow load capacity of up to 20lbs/sq ft. Other features include two gutters to direct rainwater, high impact twin-wall polycarbonate roof panels and an aluminum rust-resistant frame. Extend the life of your vehicle and spend less time worrying what condition you're going to find your car in with the Palma Carport Kit.
Highly resistant, safe polycarbonate carport, multi-purpose structure, designed for the superior protection of your car all year round
Transmits natural sunlight while providing up to 100% protection from harmful UV sun rays
Lifetime resilient polycarbonate glazing; does not fracture, becomes brittle, or turns yellow over time.
Sturdy, anti-rust aluminum carport offering ample shading
Specially engineered to withstand harsh weather conditions.
The four-post architecture allows easy access and car parking.
Clean-lined, modern, and functional design
Aluminum carport maintenance-free, built to last thanks to outstandingly durable materials
Made with 100% recyclable materials
The Carports are available in various sizes. Click to find more Carport Kits
Model: #704704
Dimensions
| | | | |
| --- | --- | --- | --- |
| A | Length | 496.5cm | 16'4"ft |
| B | Width | 292.5cm | 9'7"ft |
| C | Height | 223.5cm | 7'4"ft |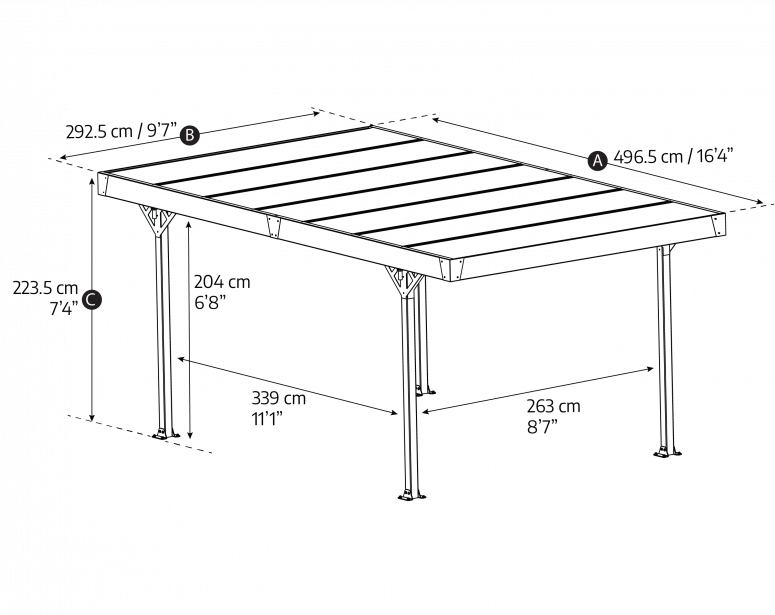 Product Details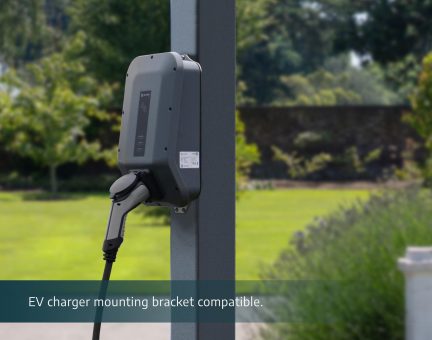 EV Charger
For electric vehicles that will be parked under the carport, you can mount your EV charger on a carport post.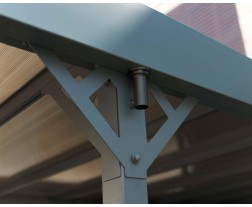 Gutter & gutter heads
Built-in gutter channels rainwater sideways Space-saving and easy-to-access carport Structure can be easily re-located Can also serve as an enjoyable sitting area / patio cover 100% maintenance-free carport for years of car protection 100% recyclable materials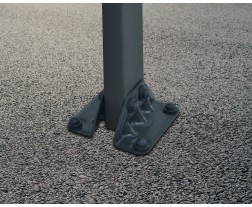 Anchoring
Friendly DIY installation – sliding panels' assembly system Anchoring and foot pads kit included
FAQ
The polycarbonate roof panels can withstand temperatures up to 190 F.
Yes, this keeps the rain off without leaking.
Arcadia™ / Verona™ / Vitoria™ / Palma™ allow 15% light transmission. Arizona™ / Atlas™ allow 10% light transmission.
Yes, it certainly should withstand its impact and maintain its integrity. It will not shatter if an acorn hits it, having said that, it is not recommended to be built directly under a tree.
The carport needs to be properly installed on a concrete slab, concrete footings or deck. The base of the posts has to be anchored onto a solid base / footing and fastened with the foot pads kit. Yes, it is possible to mount on a deck. Please consult with a professional with regards to the appropriate bolts and screws and masonry anchors.
The posts length is 82.7 in. (210 cm)
It is not recommended to paint the polycarbonate panels, please refer to the warranty.
The carport needs to be anchored well and should be on cement footings.
Yes, the Arcadia's panels are heat resistant, as long as you keep the grill at a reasonable distance from the panels, it should be fine. Please make sure you follow the manufacturers safety advise and keep a safe distance. The polycarbonate panels can withstand heat of over 180 degrees F. Make sure you keep a safe distance from the heat source, as per the manufacturer's safety advise.
Assembly instructions & Certificates for Downloads
Foundation
The product must be built on a solid anleveled surface in order to perform properly.
Important
We recommend checking for restrictions or covenants for building this product in your area. In addition we advise to check if you need to submit any forms or if any permit is required prior to building the product.
Choose your foundation type
Need help making a purchase decision?
Fill out the form below and we will help!