Balance 10 ft. x 20 ft. Greenhouse Kit - Silver Structure & Hybrid Panels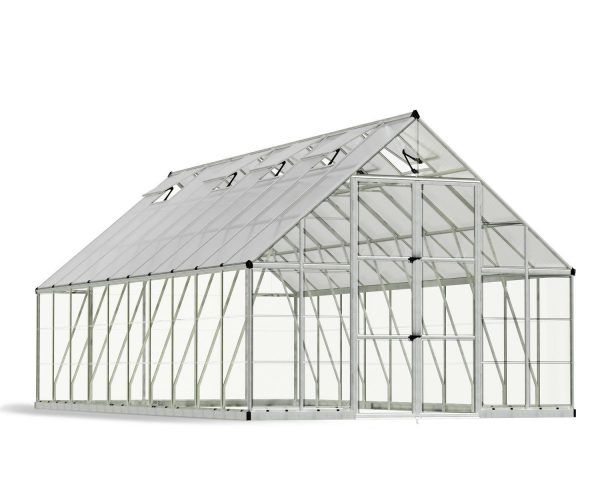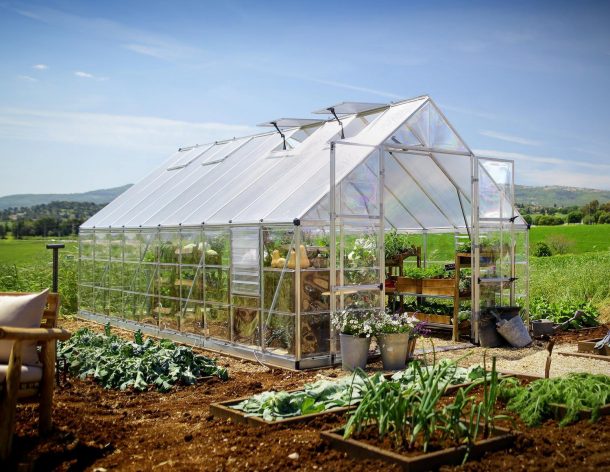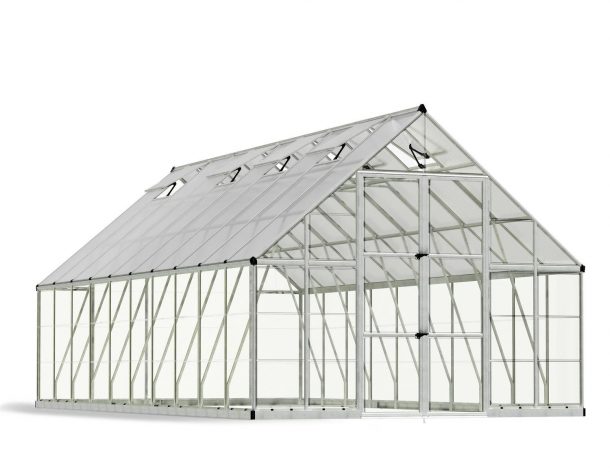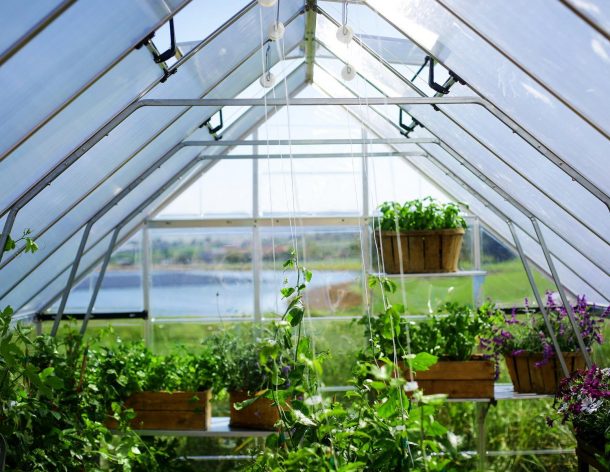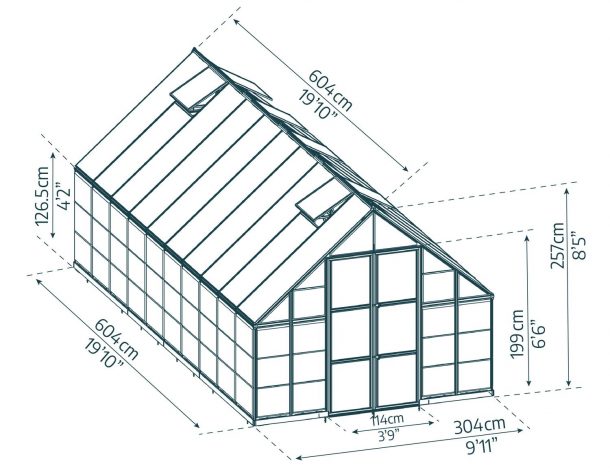 When we tell you that the Canopia Balance Greenhouse Kits provide your plants with the optimal conditions for nurture and growth, we mean it.
With two types of glazing, you get a balanced DIY greenhouse that combines the protection of the diffused twin-wall roof panels with the light transmission of the crystal-clear wall panels for ideal growing conditions. All panels are made of UV-protected polycarbonate, a glass-like, virtually unbreakable high-end polymer that is uniquely suited for greenhouses.
The extra-large workspace gives you plenty of room to grow an abundance of vegetables and herbs and store the tools and accessories you need. The Balance Greenhouse is also extremely accessible with wide and tall double doors and a low threshold for wheelbarrows to go in and out and enough room to transfer large trays of plants. The lockable door has an aluminum hinge that works as well in frost as it does in heat, so it never gets stuck like a sliding door.
Made of 100% recycled materials, the combination of the safe polycarbonate panels with the rust-resistant, aluminum frame and extra strong support beams provides you with a greenhouse that is well-designed and durable, so you never have to worry about the sturdiness or safety of your greenhouse.
For a beautiful, well-designed, and spacious addition to your gardening experience, get a Balance backyard Greenhouse today!
Extra Large Design: The greenhouse has plenty of space to move around in as well as go in and out.
Durable Structure: Powder-coated aluminum frame is a strong and rust-resistant metal
Extra Support: Includes internal support beams and a galvanized steel base for added strength and stability
Polycarbonate: The resilient panels are 100% UV protected, virtually unbreakable and do not turn yellow or become brittle over time
Diffused Roof Panels: 4 mm twinwall roof panels protect from strong sunlight exposure and extend your season by protecting plants from Fall frosts.
Clear Wall Panels: Crystal-clear side panels provide over 90% light transmission
Year-Round Weather Resistance: Wind, snow, and hail resistant. Withstands winds up to 56 mph / 90 kmh and 15 lbs/ft² / 75 kg/m² of snow.
Door Features: Low threshold ramp for easy access as well as lockable, aluminum, hinged double doors that are high (6'6″ / 199 cm) and wide.
Ventilation: Manual roof windows allow adjustment of humidity, temperature, and ventilation, and keep you cooler on hot days.
Gutter: Includes a built-in gutter system to channel and easily collect rainwater
DIY Assembly: Sliding panel system includes pre-drilled profiles, pre-cut sliding panels for easy installation
Available Accessories: Fan heater, lighting kits, shade cloth kit, automatic roof vent opener, staging and shelving, plant hangers, trellising kit, and drip irrigation kit are all available for purchase separately.
Warranty: 5-Year Limited Warranty
Model: #707012
Dimensions
| | | | |
| --- | --- | --- | --- |
| A | Lenght | 604cm | 19'10"ft |
| B | Width | 304cm | 9'11"ft |
| C | Height | 257cm | 8'5"ft |
| D | Door width | 114cm | 3'9"ft |
| E | Door height | 199cm | 6'6"ft |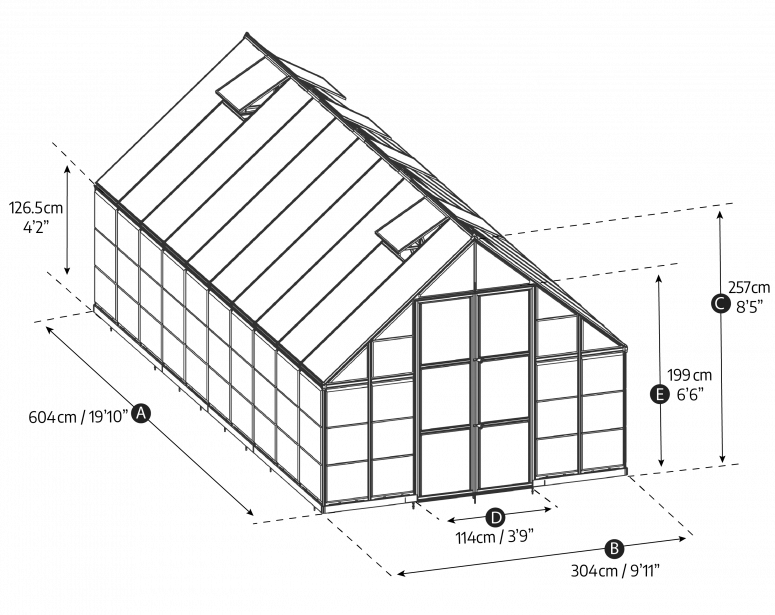 Product Details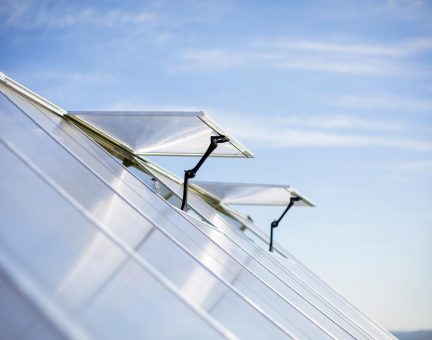 Ventilation
Manual roof windows allow adjustment of humidity, temperature, and ventilation, and keep you cooler on hot days.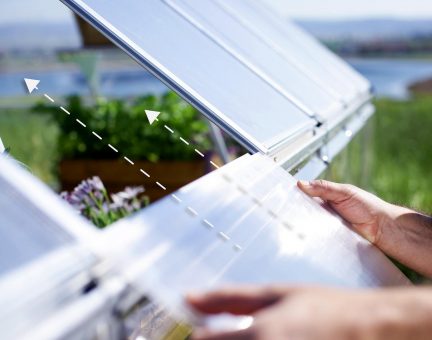 Easy Assembly
Sliding panel assembly system Uniform profiles for all positions A hinged door can be assembled as a right or left-hand door Hinged door can be assembled as a right or left hand door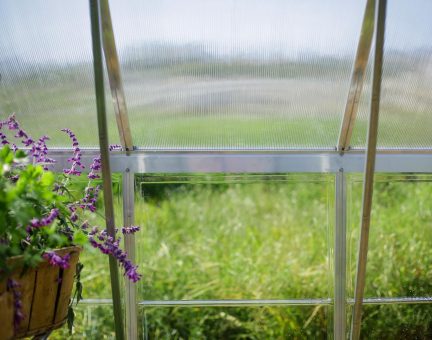 Balanced Growing Conditions
Balanced growing conditions with twinwall polycarbonate roof panels and crystal-clear wall panels that provide over 90% light transmission.
FAQ
No, it is not an option, it cannot be performed.
Yes, it can be disassembled, relocated and reassembled at a different location.
No, it is not an option to get doors on both ends.
It is not possible to install the Lean To Grow House' door at the other side. It is possible to install only as shown in the instructions.
The greenhouses do not come with a floor or base.
Yes, the polycarbonate panels are high impact resistant and withstand hail.
The warranty for all our greenhouses is for at least 5 years, some for more. The crystal-clear single layer or twin-wall polycarbonate panels maintain their integrity, they do not discolor, opacify, fracture or shatter over time.
Each wall section can carry up to 44 lbs. at most – an entire wall would depend upon the greenhouse' size.
It can be anchored to a foundation, depending on the greenhouse, some have compatible holes at the bottom of the greenhouse base, and some have their own integrated anchoring. Yes, the greenhouse can be anchored to concrete slab. It can be anchored directly to the ground using ground stakes (ground stakes are not supplied with the greenhouse kits). *Firmly connect the product to a level surface immediately after completion of the assembly. Anchoring this product to the ground is essential to its stability and rigidity. It is required to complete this stage in order for your warranty to be valid.
The Canopia Greenhouse can be used year-round, but there are several factors to consider. The two main factors are weather and plants. What are the plants you want to grow and how much heat or cold can they handle? No matter where you live, greenhouses can be 20-40 degrees hotter inside during the day and at night they will be the same temperature as the outdoors. This is without any supplemental heating or cooling. Depending on where you live, heating and / or cooling your greenhouse can make a difference. If you need to heat or cool your greenhouse in extreme weather conditions, you may want to consider a twin-wall greenhouse such as the Canopia Glory Greenhouse which has a 10mm polycarbonate covering.
Assembly guide
Assembly instructions & Certificates for Downloads
Foundation
The product must be built on a solid anleveled surface in order to perform properly.
Important
We recommend checking for restrictions or covenants for building this product in your area. In addition we advise to check if you need to submit any forms or if any permit is required prior to building the product.
Choose your foundation type
For a foundation, we recommend using three material types: Concrete / Pressure-treated wood/ wood deck / Paver blocks.
Anchor to foundation (10 FT)
3 options to anchoring the product to the foundation of your choice.
Customers who viewed this also viewed
Need help making a purchase decision?
Fill out the form below and we will help!