Sanremo 10 ft. x 14 ft. Solarium Kit - Grey Structure & Hybrid Panels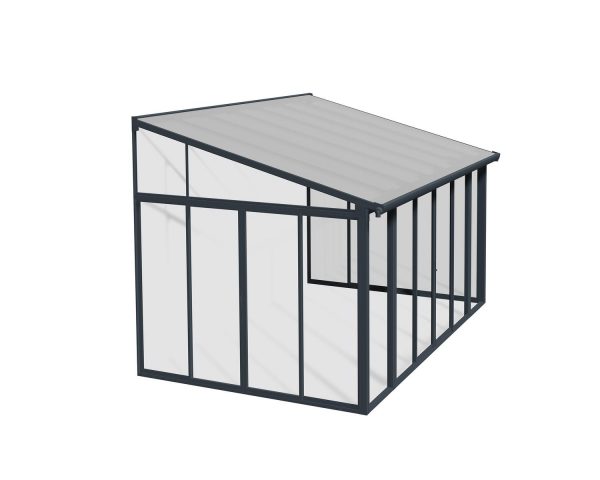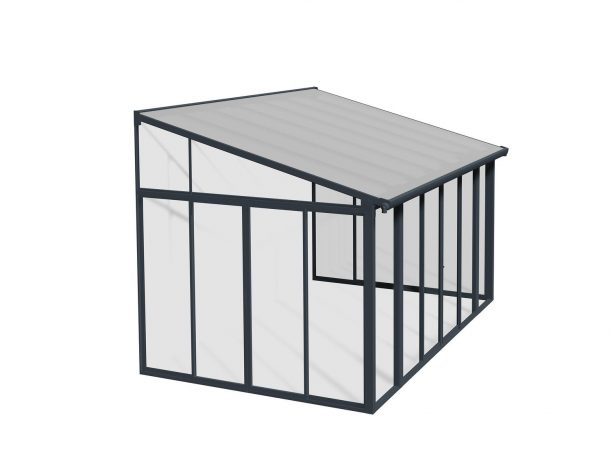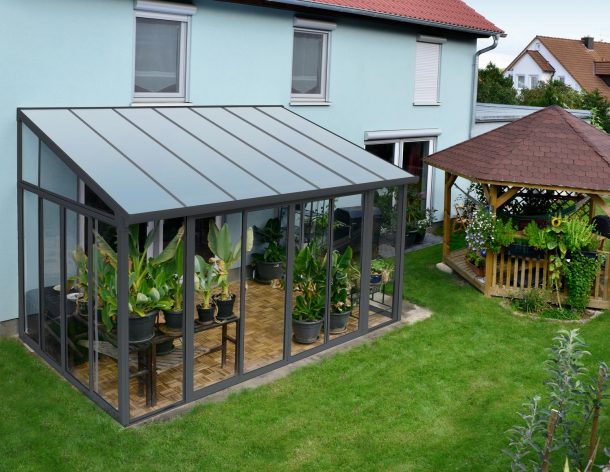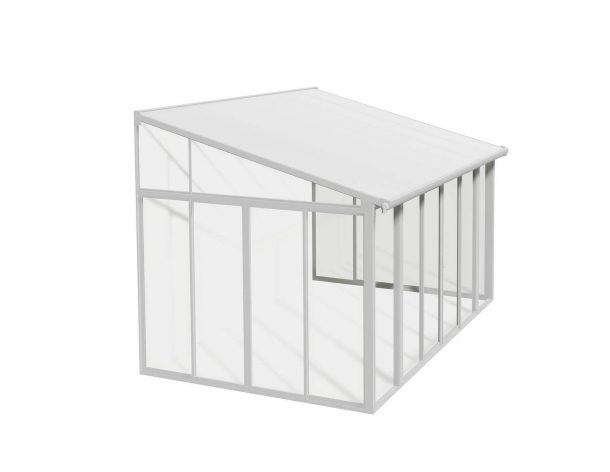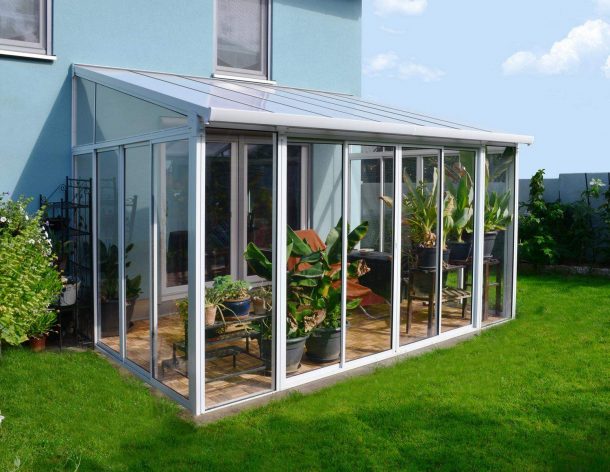 A safe and ultra-durable outdoor room, designed to be enjoyed at all seasons.
Provides up to 100% protection from harmful UV sun rays, while transmitting natural sunlight.
Life-time resilient polycarbonate glazing; does not fracture, become brittle or turn yellow over time.
Crystal-clear, transparent acrylic wall system, resilient and easy to clean, perfectly integrates with any home design and outdoor environment.
The combination of 2 glazing types creates a comfortable lounging environment and a pleasant feel.
Proprietary screw-free roofing assembly system, specially developed to prevent rain/dew leaks.
Stout, anti-rust aluminum structure, specially engineered to withstand harsh climate conditions.
Enlarge to your home; add light, elegance, and spaciousness, for extended use of your patio.
Clean-lined, modern design.
Friendly and safe DIY assembly structure.
Maintenance-free, built-to-last thanks to outstandingly durable materials.
Made with 100% recyclable materials.
Model: #703708
Dimensions
| | | | |
| --- | --- | --- | --- |
| A | Length | 435cm | 14'3"ft |
| B | Width | 294-300cm | 9'8"-9'10"ft |
| C | Height | 285-310cm | 9,4"-10'2"ft |
| D | Door Width | 121cm | 3'11"ft |
| E | Door Height | 203cm | 6'7"ft |
Product Details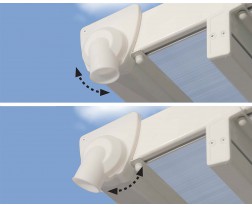 Gutter & gutter heads
Built-in gutter system with adjustable gutter heads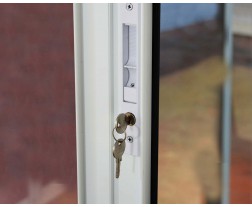 Lockable doors
3-double, lockable sliding doors enhance ventilation and allow easy passage Master key for lockable doors included
FAQ
It is necessary to have it anchored as per the instructions, Anchoring this product to the ground is essential to its stability and rigidity. It is required to complete this stage in order for your warranty to be valid.
Yes, you can definitely use a heater inside the closed gazebo. Make sure you follow the manufacturer's safety instructions. Using a heater will allow retention of heat, a suitable heater by Canopia can be found online.
Yes, the Sun Room's door can be placed on either side. There are no available screens for the Sun Room. The door swings outward.
No, it is not an option, it cannot be performed.
Yes, it can be anchored to concrete. Base or foundation must be flattened, leveled and prepped prior to installing the product. The product must be built on a solid level surface in order to perform properly. We recommend using concrete or wood deck as base. In addition, It is imperative that the ground surface be perfectly flat and leveled and in a 90° angle to the supporting wall.
The structure can support a ceiling fan hanging from it, it can be installed using the beam's built-in tracks. Please make sure you install the fan and the wiring in a secure way, you may consult with a handyman as to how to attach it to the top.
I am assuming you are referring to a stationary RV. If this is the case, you need to make sure the RV's size is suitable to the requirements. You will need to find the compatible screws and plugs in order to attach the SanRemo to the RV. In addition the SanRemo requires a solid foundation such as concrete, asphalt etc. and the back is supposed to be attached to a structure wall (such as a house's wall). Should you attach it to a vehicle; the lower part (where the wheels are) will remain open.
The SanRemo can be installed on a deck and attached to a house with vinyl sidings. Please consult with an expert / constructor with regards to the screws and plugs you should use for your specific wall type and trex deck.
There are screen doors that can be added (to be purchased separately) and these can be installed without removing the existing doors.
Yes, the polycarbonate panels are high impact resistant and withstand hail.
Assembly guide
Assembly instructions & Certificates for Downloads
Foundation
The product must be built on a solid anleveled surface in order to perform properly.
Important
We recommend checking for restrictions or covenants for building this product in your area. In addition we advise to check if you need to submit any forms or if any permit is required prior to building the product.
Need help making a purchase decision?
Fill out the form below and we will help!