Austin 6 ft. x 8 ft. Grill Gazebo Kit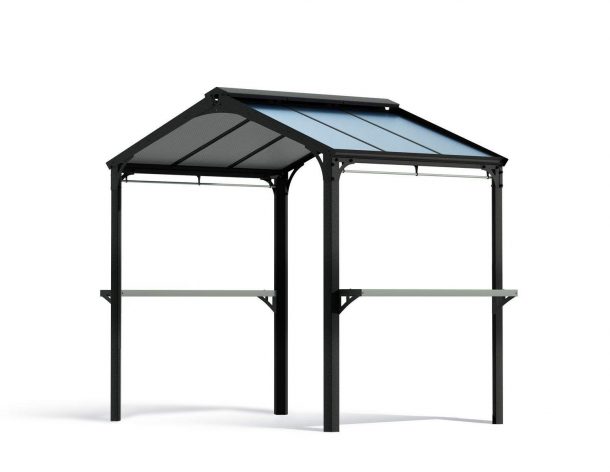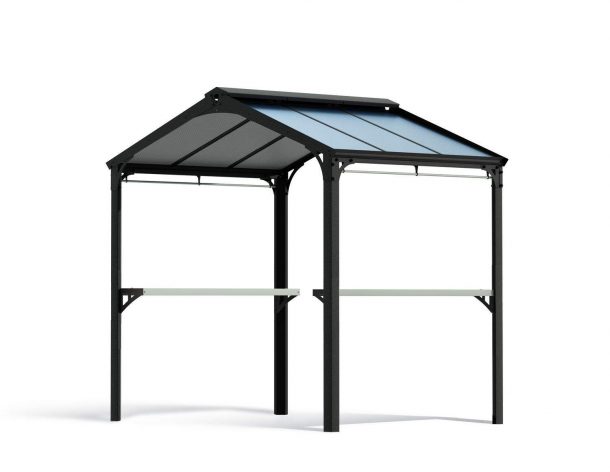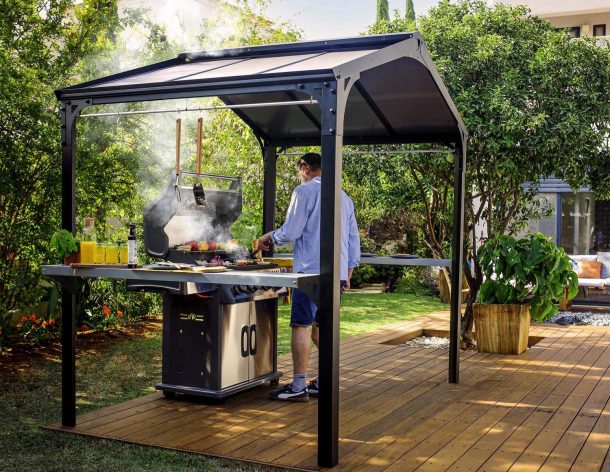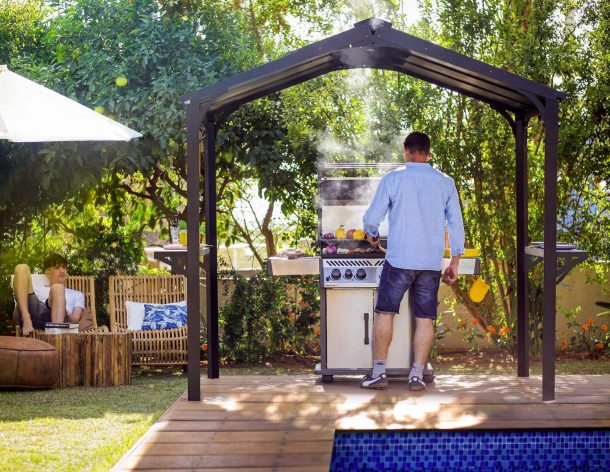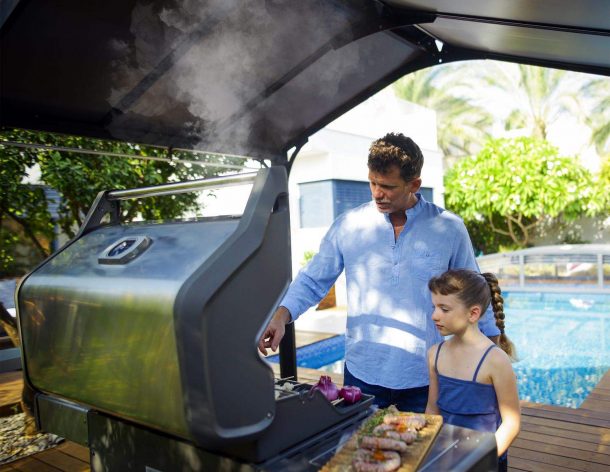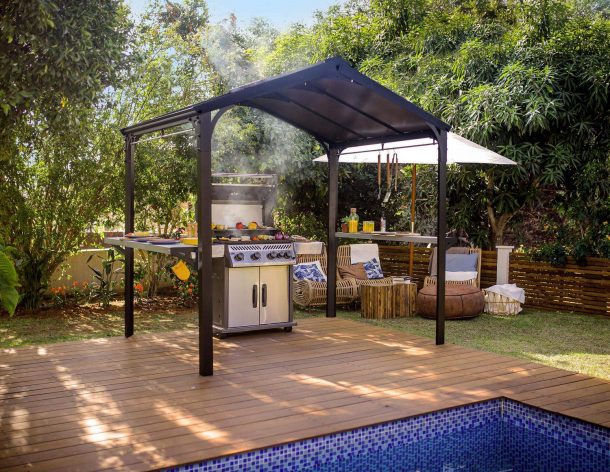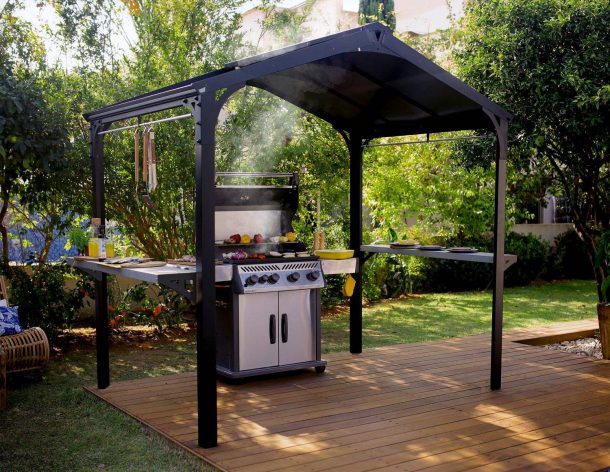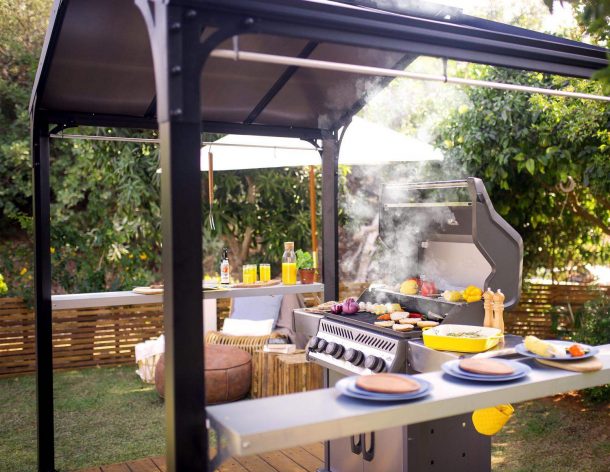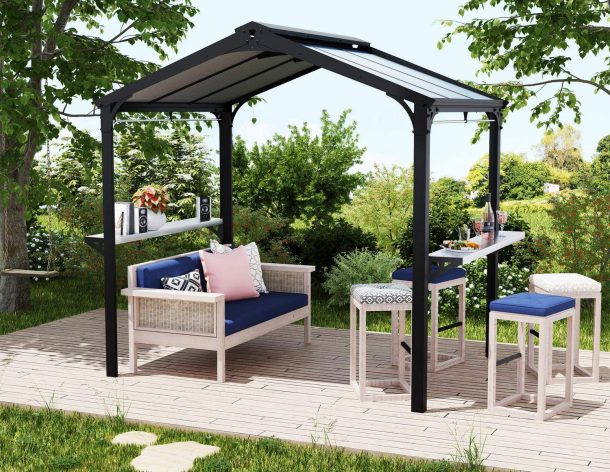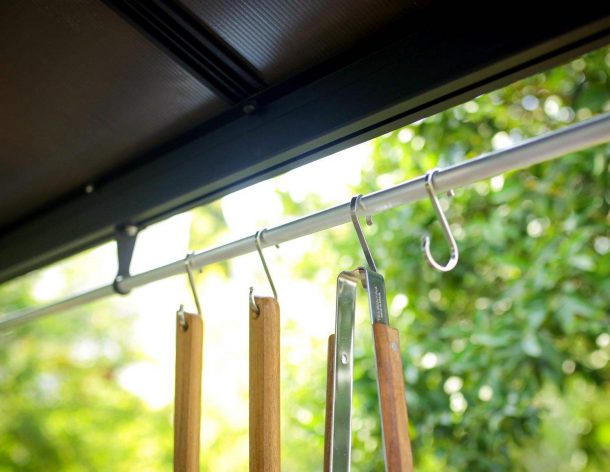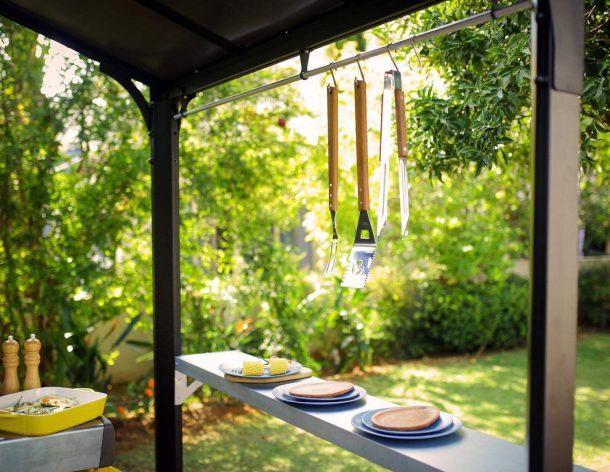 There is something about that barbecue smell that says summer like nothing else and the Austin BBQ Gazebo makes sure nothing comes between you and that grill. The ultra-durable 6 Ft x 8 Ft aluminum frame protects the cook and food from getting soaked in the rain or burned in the sun and the peaked roof features a vent that allows smoke to get out without letting anything get in. In a sophisticated black, with 7'4" between heavy-duty posts, and 7'2" of head space, you can also use the grill gazebo to setup a small outdoor sitting or dining area, or as a bike shelter. It has two built-in steel countertops you can use for prepping while cooking and hooks to hold your utensils, or you can use the shelves to serve drinks to your friends and family and add planters to the hooks for a luxe garden experience. The Austin grill shelter is ultra-durable, it looks great, and it keeps you safe and dry, making it the perfect upgrade to your yard.
Year-round protective shelter for your grill, seating area, or bike
Peaked roof with built-in vent for smoke and air circulation
Includes two silver galvanized steel shelves and four hooks
Durable and rust-resistant powder-coated black aluminum frame
includes 80mm thick heavy-duty posts
Up to 7'4" wide and 7'2" tall entrance for easy access
Fits range of grills up to 7'4" wide
Easy assembly and metal anchor connectors included
10 Year Warranty
Local customer service available to answer any questions
Dimensions
| | | | |
| --- | --- | --- | --- |
| A | Length | 224cm | 7'4"ft |
| B | Width | 180cm | 6'ft |
| C | Height | 249cm | 8'2"ft |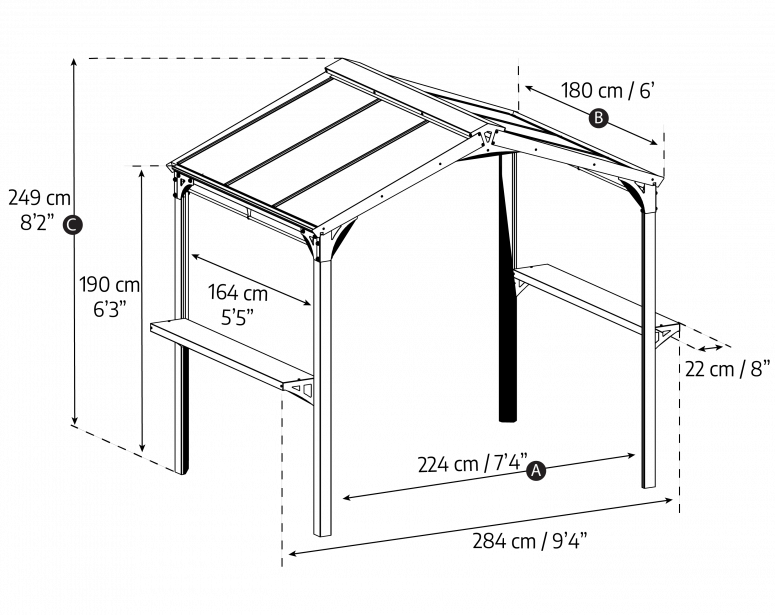 Product Details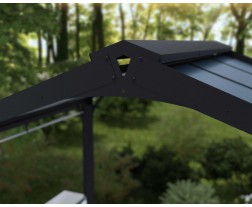 Smooth / clean design
The sleek modern design blends beautifully outdoors and sets the stage for your space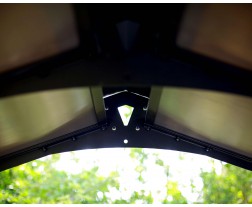 Ventilation
The roof has a rust-resistant hardtop with ventilation for ideal airflow
FAQ
The Martinique / Milano / Monaco / Palermo / Roma gazebo series do not have 2 different tracks, therefore cannot be installed together.
The gazebo can be set up on grass / dirt, however there should be concrete footings to attach the poles to.
There is a slight slope in order to make sure that water will runoff.
Yes, the Gazebo is UV resistant, and has gutters and gutter outlets to channel and allow rainwater collection.
The gazebo's structure can support a ceiling fan hanging from it. Please make sure you install the fan and the wiring in a secure way, you may consult with a handyman as to how to attach it to the top.
Yes, you can use a small propane fire pit under the Garden Gazebo. Please make sure you follow the manufacturers' safety advice and keep a safe distance.
Yes, it is recommended to anchor it to concrete / concrete slab.
A spray may compromise the polycarbonate's integrity, it is not recommended to paint the panels. Please refer to the warranty.
Yes, this gazebo must be anchored. It comes with an anchoring and foot pads kit.
Yes, the polycarbonate panels can definitely stay on during winter season. There's no need to remove the panels.
Foundation
The product must be built on a solid anleveled surface in order to perform properly.
Important
We recommend checking for restrictions or covenants for building this product in your area. In addition we advise to check if you need to submit any forms or if any permit is required prior to building the product.
Choose your foundation type
Need help making a purchase decision?
Fill out the form below and we will help!