Colorado 14 ft. x 14 ft. Carport Kit - Grey Structure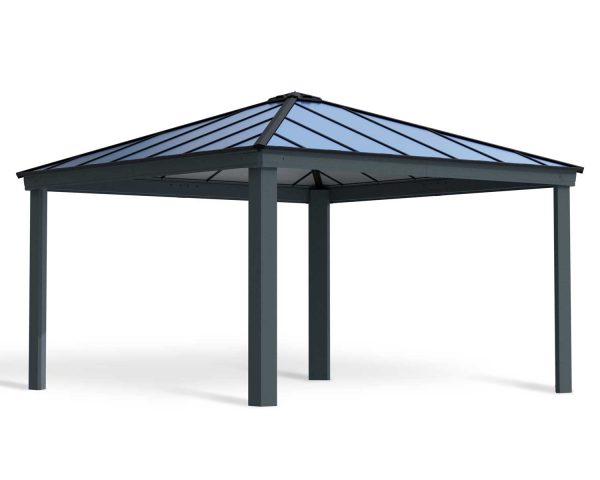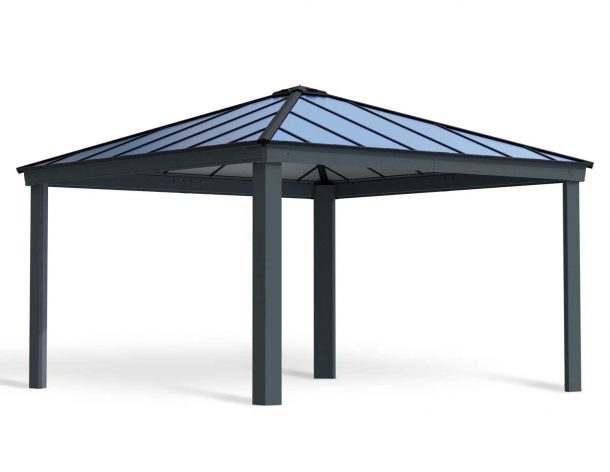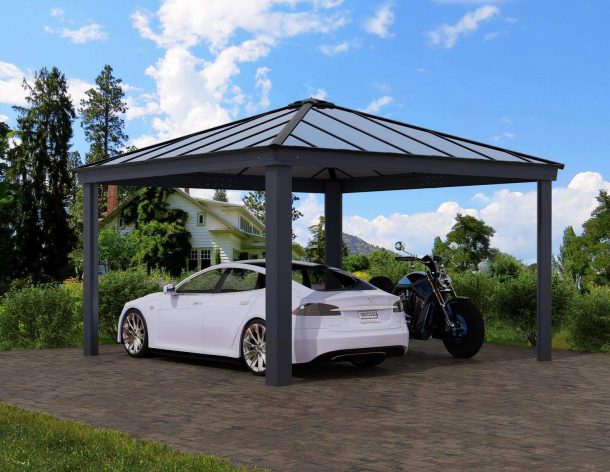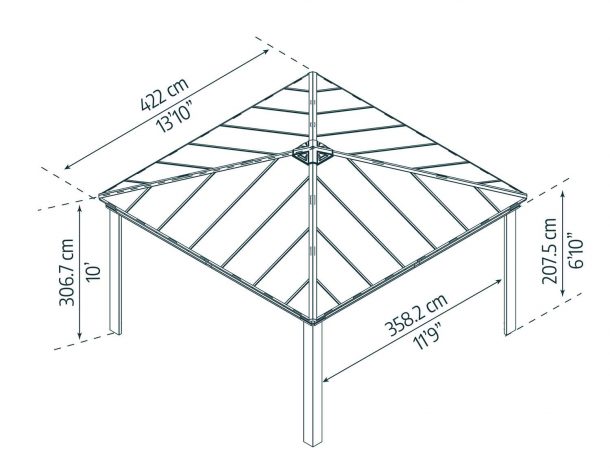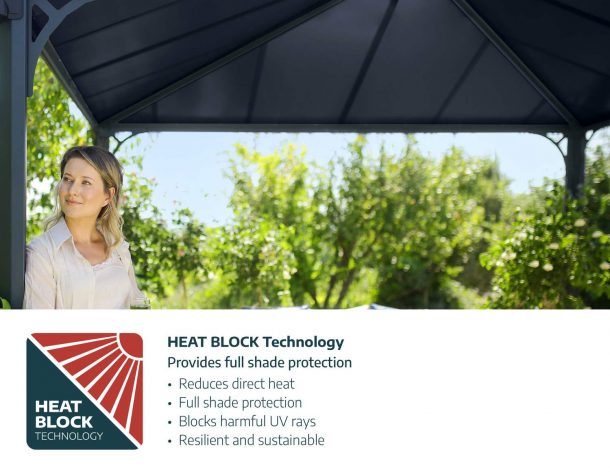 Pull up your driveway and safely park your cars in style with the extra-wide Colorado carport. This aluminum carport kit provides you with a covered parking spot to keep your vehicles protected from the elements and has only 4 posts and a wide entrance to comfortably fit two large cars.
Vehicles are expensive and it's important to prevent costly repairs and safeguard your investment from rain, snow, and UV-rays. The matte gray polycarbonate roof panels have year-round weather resistance and provide full shade to keep your car cool, preserve the paintwork, and give you peace of mind that your care will be protected from the elements.
The visual contrast between the sturdy aluminum frame and gable roof takes your space from plain to contemporary. With pre-drilled profiles and pre-cut panels, this large DIY carport kit is ready to assemble and easy to install. Add curb appeal and protect your vehicle for years to come with the Colorado metal carport.
Extra Large Carport: The large carport has the thickest aluminum column (18 cm) and beam (24 cm) profiles in the industry. It has only 4 posts, giving you even more room to enjoy.
Durable Structure: Aluminum frame is a strong, rust-resistant grey coated metal with sturdy columns (18 cm)
Resilient Panels: Polycarbonate is 100% UV protected, virtually unbreakable and does not turn yellow or become brittle over time. No need to remove panels for Winter.
UV Protection: The 6mm matte gray twinwall panels provide 2% light transmission, protecting your vehicles from strong sunlight exposure.
Year-Round Weather Resistance: Wind, snow, and hail resistant. Withstands winds up to 68 mph and 16 lbs./ft² of snow.
Ready to Assemble: Carport arrives ready to assemble with pre-drilled profiles, pre-cut sliding panels and uses an easy sliding panel system. Please read all directions before you begin.
Warranty: 10 Year Limited Warranty. Customers are responsible for ensuring a perfectly flat, level surface site for construction.
Accessories: Add lighting with a Palram – Canopia LED light strip with remote control or LED lighting kit. Available for purchase separately.
Model: #707320
Dimensions
| | | | |
| --- | --- | --- | --- |
| A | Length | 422cm | 13'10"ft |
| B | Width | 422cm | 13'10"ft |
| C | Height | 207.5cm | 6'10"ft |
| D | Max Height | 306.7cm | 10'ft |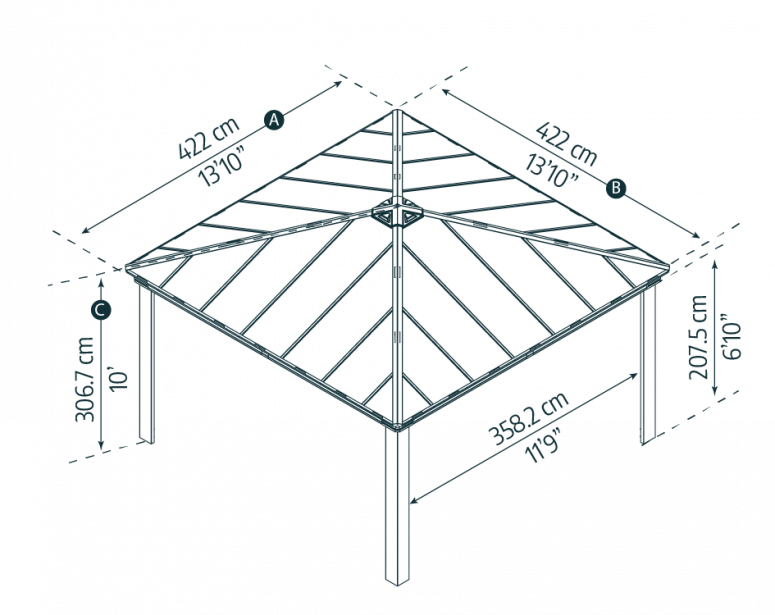 Product Details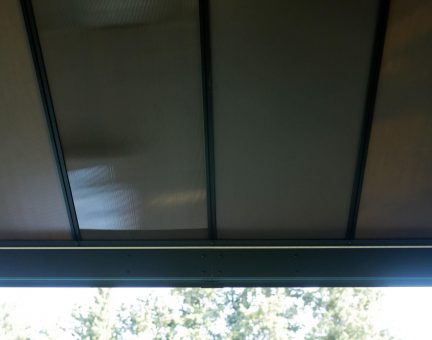 Resilient Panels
The 6mm virtually unbreakable, 100% UV protected, grey opaque twin-wall polycarbonate panels are high impact, shatter resistant, and insulating.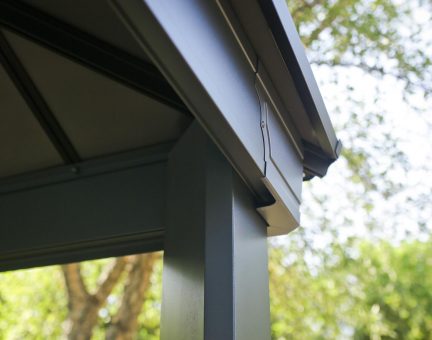 Extra Large Structure
The large gazebo has the thickest aluminum column (18 cm) and beam (24 cm) profiles in the industry and only 4 posts for more room The aluminum frame is durable, rust-resistant, and engineered to withstand harsh weather conditions.
Clean Modern Design
The minimal sleek design of the gazebo blends beautifully outdoors
FAQ
The polycarbonate roof panels can withstand temperatures up to 190 F.
Yes, this keeps the rain off without leaking.
Arcadia™ / Verona™ / Vitoria™ / Palma™ allow 15% light transmission. Arizona™ / Atlas™ allow 10% light transmission.
Yes, it certainly should withstand its impact and maintain its integrity. It will not shatter if an acorn hits it, having said that, it is not recommended to be built directly under a tree.
The carport needs to be properly installed on a concrete slab, concrete footings or deck. The base of the posts has to be anchored onto a solid base / footing and fastened with the foot pads kit. Yes, it is possible to mount on a deck. Please consult with a professional with regards to the appropriate bolts and screws and masonry anchors.
The posts length is 82.7 in. (210 cm)
It is not recommended to paint the polycarbonate panels, please refer to the warranty.
The carport needs to be anchored well and should be on cement footings.
Yes, the Arcadia's panels are heat resistant, as long as you keep the grill at a reasonable distance from the panels, it should be fine. Please make sure you follow the manufacturers safety advise and keep a safe distance. The polycarbonate panels can withstand heat of over 180 degrees F. Make sure you keep a safe distance from the heat source, as per the manufacturer's safety advise.
Assembly instructions & Certificates for Downloads
Foundation
The product must be built on a solid anleveled surface in order to perform properly.
Important
We recommend checking for restrictions or covenants for building this product in your area. In addition we advise to check if you need to submit any forms or if any permit is required prior to building the product.
Choose your foundation type
Need help making a purchase decision?
Fill out the form below and we will help!