Gazebo Kit Tucson 11 ft. x 17 ft.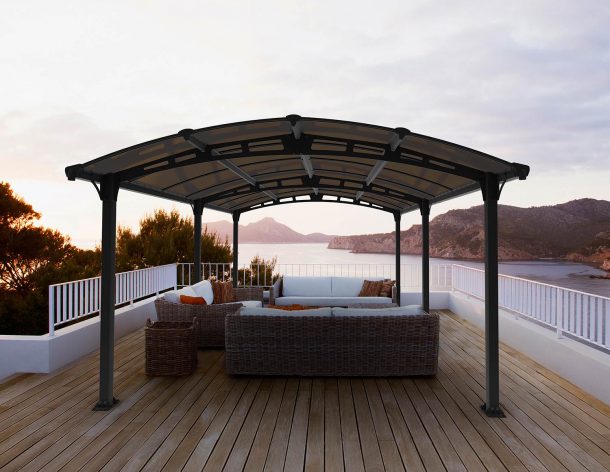 Gazebo kits Sturdy and durable structure – protects during harsh weather conditions.
Unique leak-free and screws-free roofing system
Rust-free, powder-coated aluminum gazebo and laser cut galvanized steel connectors.
Shatterproof, UV-protected 6 mm twin-wall polycarbonate roof panels.
Treated bronze glazing blocks harmful UV rays, transmits natural sunlight yet provides ample shading.
Built-in gutter system for effective water drainage & collection (dia. 5 cm / 2')
Easy DIY gazebo assembly kit – pre-cut panels, pre-drilled profiles, and all screws included
Compact, efficient package to save storage space and shipping costs

The product requires a solid leveled surface for installation, such as a concrete or wooden base

The Gazebos are available in various sizes. Click to find more Gazebo kits.
Dimensions
| | | | |
| --- | --- | --- | --- |
| A | Length | 507cm | 16'8"ft |
| B | Width | 359cm | 11'9"ft |
| C | Hight | 242cm | 7'11"ft |
Product Details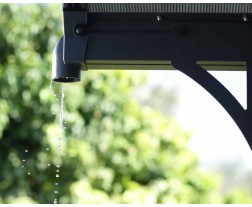 Gutter & gutter heads
Integrated gutter and gutter heads allow you to easily channel and collect rainwater for a sustainable irrigation system
Anchoring
Secure the carport to the surface of your choosing Structure can be easily relocated 6 Sturdy and durable 8.8 cm (3.15 in. x 3.15 in.) aluminum poles
FAQ
The Martinique / Milano / Monaco / Palermo / Roma gazebo series do not have 2 different tracks, therefore cannot be installed together.
The gazebo can be set up on grass / dirt, however there should be concrete footings to attach the poles to.
There is a slight slope in order to make sure that water will runoff.
Yes, the Gazebo is UV resistant, and has gutters and gutter outlets to channel and allow rainwater collection.
The gazebo's structure can support a ceiling fan hanging from it. Please make sure you install the fan and the wiring in a secure way, you may consult with a handyman as to how to attach it to the top.
Yes, you can use a small propane fire pit under the Garden Gazebo. Please make sure you follow the manufacturers' safety advice and keep a safe distance.
Yes, it is recommended to anchor it to concrete / concrete slab.
A spray may compromise the polycarbonate's integrity, it is not recommended to paint the panels. Please refer to the warranty.
Yes, this gazebo must be anchored. It comes with an anchoring and foot pads kit.
Yes, the polycarbonate panels can definitely stay on during winter season. There's no need to remove the panels.
Assembly instructions for Downloads
Foundation
The product must be built on a solid anleveled surface in order to perform properly.
Important
We recommend checking for restrictions or covenants for building this product in your area. In addition we advise to check if you need to submit any forms or if any permit is required prior to building the product.
Choose your foundation type
Need help making a purchase decision?
Fill out the form below and we will help!